Cambodia & Vietnam Experience
Booking Dates
03/12/2023 through 12/13/2024
Travel Dates
03/12/2023 through 12/16/2024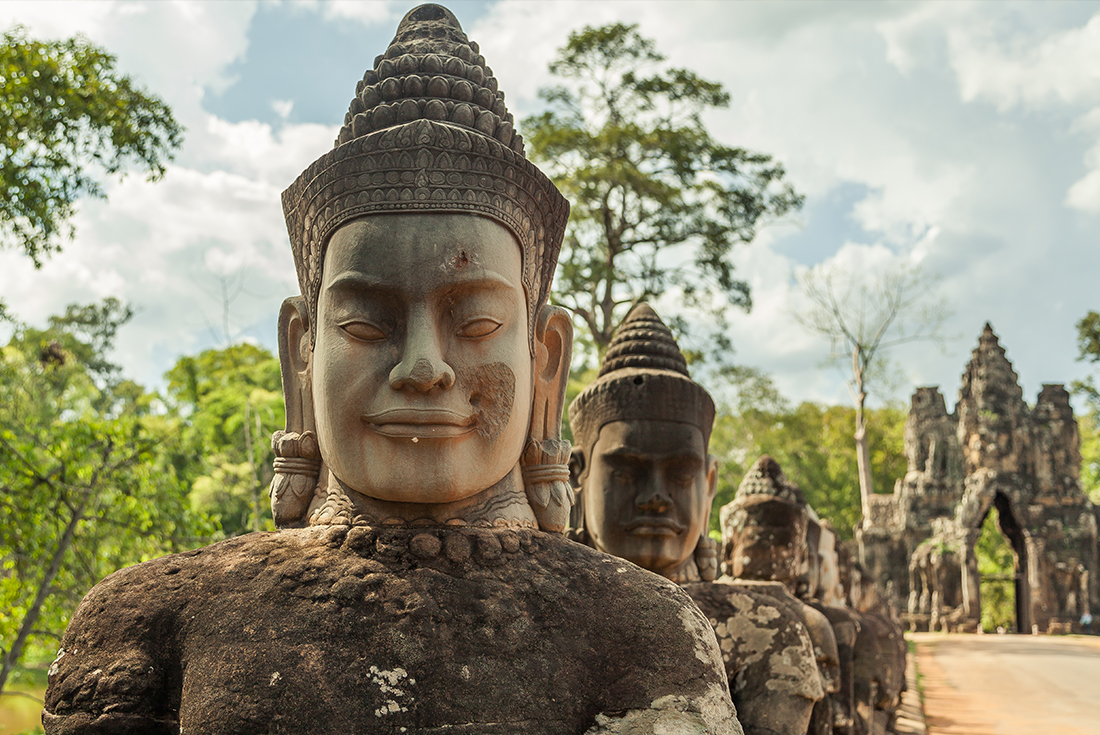 Cambodia & Vietnam Experience

Prepare for an epic adventure loaded with ancient sights and natural beauty as you travel from the hustle of Bangkok to the bustle of Hanoi. In Cambodia, call into the ancient temples at Angkor, take on beguiling Phnom Penh and get a taste of Khmer hospitality with a village homestay in Chambok. Then veer into Vietnam to trace its coastline from south to north, visiting the chaotic Ho Chi Minh City all the way up to old-world Hanoi, with historic Hoi An and Hue at its centre. Along the way, revel in the sheer beauty of the landscape, the friendliness of the locals and the social organisations that are providing brighter futures for this region. Oh, and did we mention the food? To die for.

Activities
Siem Reap – One day Angkor Pass
Siem Reap – Angkor Temples Guided Tour
Chambok – Traditional dancing
Chambok – Waterfall hike
Chambok – Homestay and activities
Chambok – Khmer Dinner
Phnom Penh – Tuol Sleng Genocide Museum (S21)
Phnom Penh – Killing Fields of Choeung Ek
Mekong Delta – Boat Cruise, Lunch and Homestay
Hoi An – Old Town walking tour
Hoi An – Countryside bicycle hire
Hanoi – Old Quarter Walking Tour
Da Bac – Homestay and activities
Da Bac – Sung Cave hike
Da Bac – Sung village to Da Bia hike
Da Bac – Hoa Binh Reservoir Cruise
Da Bia – Muong Tribe Lunch
Cat Ba Island – Kayaking
Cat Ba Island – Boat trip on Lan Ha Bay
Cat Ba Island – Lan Ha Bay Lunch
Highlights
Enjoy the guidance of a local expert as you temple-hop around the dazzling Angkor complex – one of South East Asia's premier sites.
Confront the sobering but important Khmer history in Phnom Penh, with included visits to the Tuol Sleng Genocide Museum (S21) and the Killing Fields of Choeung Ek.
Experience local life during homestays in the Mekong Delta and Da Bac. Get to know local families, participate in their activities and enjoy a homestyle meal.
Hoi An is another idyllic pocket of Vietnam that's best experienced from the seat of a bike. Take a guided bicycle tour through the rolling countryside and see local life pass you by.
Kayak around the limestone karsts and shimmering waters of Lan Ha Bay and help out the locals' environmental efforts along the way.
| Day | Description | View All |
| --- | --- | --- |
| Day 1 | Bangkok | Details |
| Day 2 | Siem Reap | Details |
| Day 3 | Siem Reap / Angkor Wat | Details |
| Day 4 | Siem Reap | Details |
| Day 5 | Kampong Cham | Details |
| Day 6 | Chambok | Details |
| Day 7 | Kampot | Details |
| Day 8 | Kampot | Details |
| Day 9 | Phnom Penh | Details |
| Day 10 | Phnom Penh | Details |
| Day 11 | Ho Chi Minh City | Details |
| Day 12 | Ho Chi Minh City | Details |
| Day 13 | Mekong Delta | Details |
| Day 14 | Mekong Delta – Ho Chi Minh City – Overnight Train | Details |
| Day 15 | Hoi An | Details |
| Day 16 | Hoi An | Details |
| Day 17 | Hoi An | Details |
| Day 18 | Hue | Details |
| Day 19 | Hue – Overnight Train | Details |
| Day 20 | Hanoi | Details |
| Day 21 | Da Bac | Details |
| Day 22 | Hanoi | Details |
| Day 23 | Cat Ba Island | Details |
| Day 24 | Cat Ba Island | Details |
| Day 25 | Hanoi | Details |
| Day 26 | Hanoi | Details |